An interesting paper has reminded me that I need to update some prior speculation about housing and incomes.
First, here is an interesting graphic I recently saw (HT:
Utopia you are standing in it
).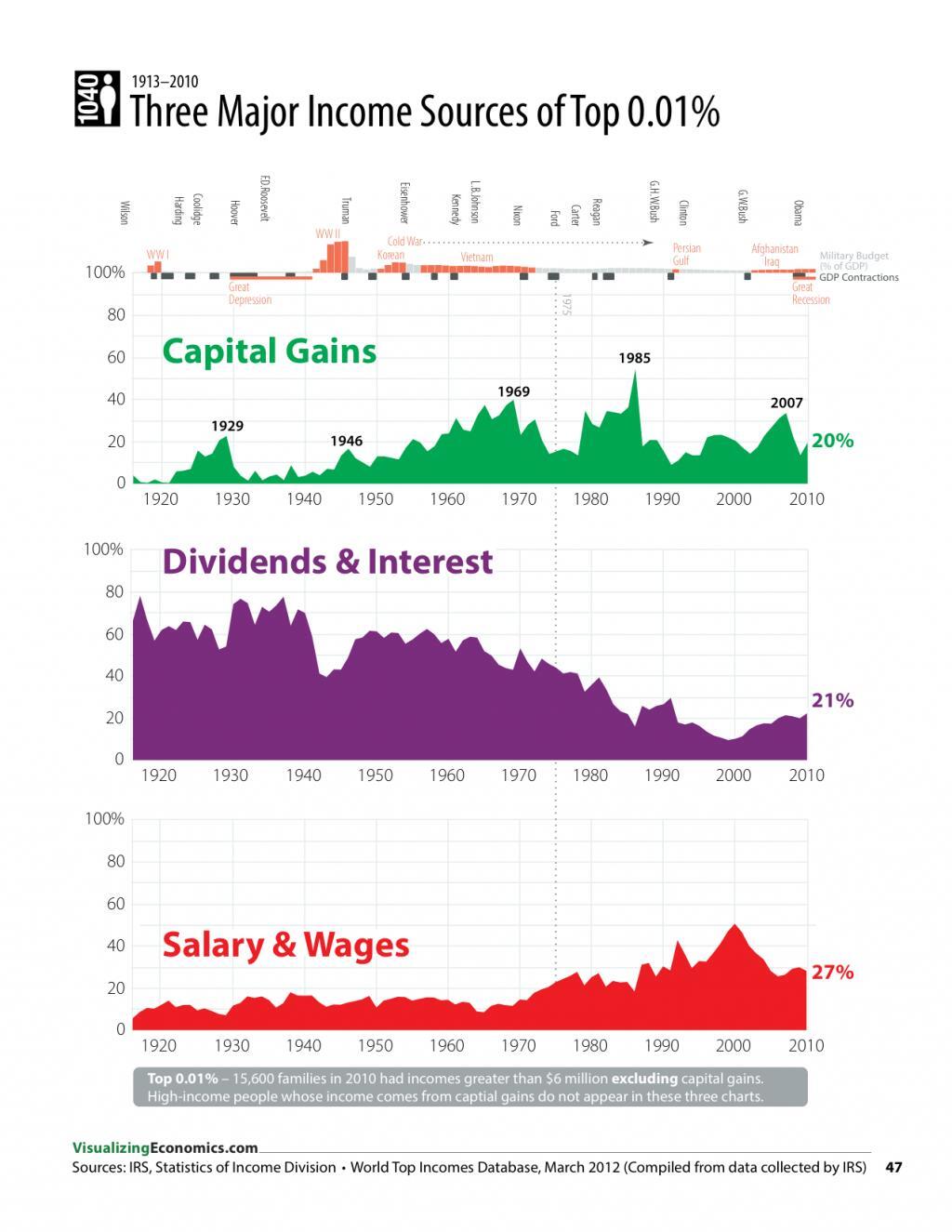 This drives home a point about the current economy. Contra Picketty, etc., the top-heavy distribution of incomes is not coming through either increased concentration of capital ownership or higher returns to capital. It is largely due to a concentration of high salaries and wages.
I have
spilled
some
digital
ink
speculating
about
how
much of the current economic landscape is due to the growing importance of human capital. I think this can be a cause of the rising level of investment in real estate, the rising level of risk premiums and associated decline of real interest rates, and the sense of economic insecurity.
Since I have come to realize how much of the rise in home prices is coming from higher rents, especially in a few large metro areas, I need to adjust my understanding of this issue. I had originally seen the rise of home prices mostly being a product of lower real interest rates, and those lower interest rates are partly a reflection of the increase in returns to human capital (both prospective and earned). Human capital is an especially illiquid, risky, and non-diversifiable form of capital. As it becomes larger, relative to physical capital, the demand for low risk assets will rise. But, if the rise of home prices is mostly related to rising rents, then while this human capital development is still a reasonable factor, it is not as large of a factor as I might have believed. Further, if the limit of housing stock is itself creating a drag on available investments, the housing supply issue could even explain some of the decline in interest rates.
I've mentioned before that
this paper
from James Galbraith and Travis Hale attributes most of the rise in income inequality since the rise of the tech. boom to four counties - basically Manhattan, San Francisco, and San Jose. Human capital is highly concentrated in these cities. But, regarding the problem of housing and rents, these cities also happen to be centers of extreme limitations to housing supply.
This new
NBER paper
from Chang-Tai Hsieh and Enrico Moretti may pull together these issues (
HT
). They estimate that the housing supply problem (almost entirely from these 3 cities) has cost us nearly $2 trillion in annual GDP - equal to nearly $10,000 per year in compensation income per household. They utilize some fairly complicated economic reasoning, so please correct me in the comments if I have some subtleties wrong.
Basically, cities in general tend to lead to higher productivity. The frontier of technological and financial sector progress and production is heavily represented in these cities. If there was not a constriction in housing supply, this would lead to an expansion of employment in these cities, as firms and workers move in to gain from the geographical advantages that the cities hold. Since there is constricted housing supply, much of the added productivity is captured by workers in these cities and by real estate owners. Effectively, there are rents earned, first, by real estate owners, due to the constriction, but also, by workers, because the lack of residential housing means there is also a lack of people - of labor.
This attracts high productivity workers to these cities, because they are most able to gain from these rents, and it also makes incomes in these cities higher than incomes in the rest of the country. And, some of those higher incomes must go to rent expenses.
In effect, this relates to Paul Krugman's work on geography. Geographical areas can attain certain persistent economic advantages. Think of Detroit and the auto industry. In many cases, factions find ways to claim these economic rents so that the advantages accrue to residents as excess income instead of leading to population influx. In these cities, some of this is playing out through the housing market.
The model constructed by Hsieh and Moretti suggests that a reasonably elastic housing supply in these cities would have led to the movement of tens of millions of workers.
The housing problem in these cities could explain a large portion of the income inequality and income stagnation that has been so widely discussed recently. And, there could be some causation going both ways. I have discussed how the development of human capital could lead to an increase in housing capital. But, most of the causation could be going the other way. The problem of housing constrictions could be allowing some wage earners - especially highly productive wage earners - to capture more of the output of their work. I have identified it as returns to human capital - and it is. But, it might be more precisely called excess returns to human capital. A more accommodative housing stock might help to reduce these excess returns, decreasing the variance in wage incomes and spreading the benefits of improved productivity more broadly through the country and the economy.
I think this direction of causation actually makes more sense than my original interpretation, because if I was right that the development of human capital was leading to more savings into housing, we should see an increase in real housing expenditures relative to incomes. Instead, we have seen rent inflation and a sharp decline in real housing expenditures, even as nominal housing expenditures have remained fairly level.
We can estimate some of the cost of the housing supply problem with the excess rent claimed by metropolitan housing. But, that only estimates the loss of real income claimed by real estate owners. This paper suggests that real income is also reduced by the lost productivity from the exclusion of labor from these cities and the transfer of consumer surplus to metropolitan labor compensation.