Here is a Bloomberg
article
about how onerous new regulations on mortgage originators. (HT:
Confounded Interest
). Because we have this terribly wrong idea that unregulated mortgage originators were the reason for the housing "bubble", even in 2016, we are still turning the screws on the industry. Here is a graph from the article.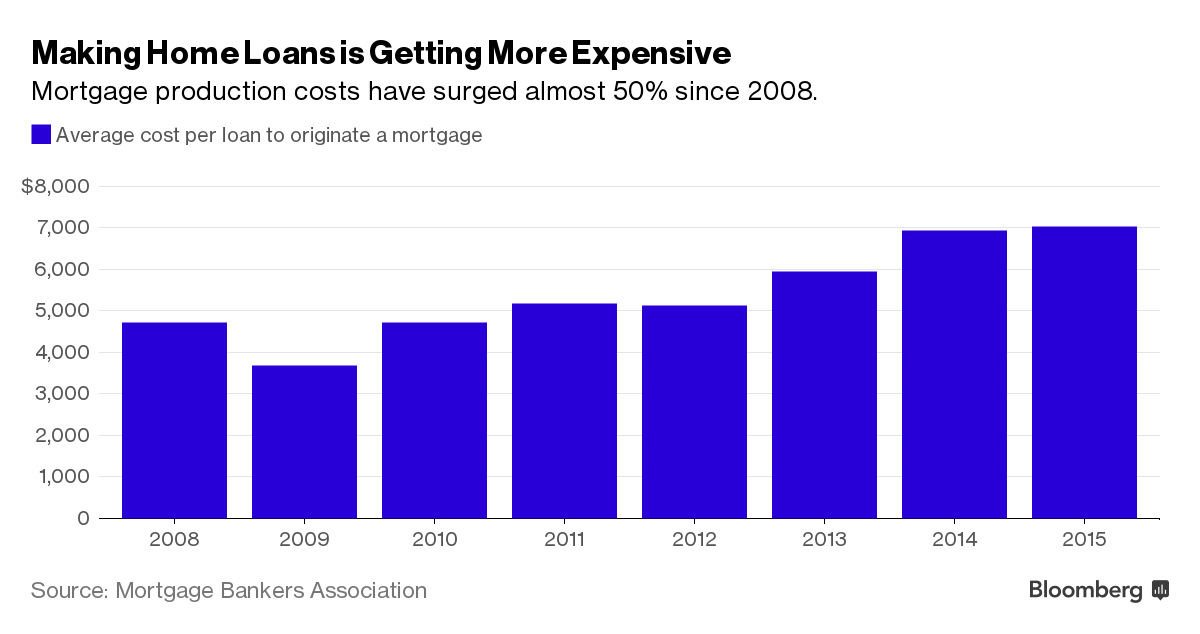 The picture I am putting together from the zip code level data is that lower credit constraints explain a surprisingly small part of the boom, but they explain all of the pain since the boom. Equity losses have been especially painful for homes in low income zip codes since 2006. They have lost more than they ever gained, relative to other neighborhoods. You can find hundreds of articles pointing out that the boom and bust was hardest on minorities, or the poor, or whatever the photo-op social justice prop of the day is. Not a single one of those articles will suggest that maybe, you know, those poor folks could maybe be okay if there was a functioning credit market for them to access. No, credit is the problem. Social justice props can't be allowed to have their own agency. They can't handle it. Didn't you see what we all insist happened in 2005 when we let them manage their own finances before?
By imposing these strict constraints on mortgage lending, we have imposed a depression on poor neighborhoods. Families are trapped in undervalued homes because there are few buyers, because we have decided that mortgages are the enemy.
Here is a comparison of Closed Access (NYC, SF/SJ, LA, Boston, SD) and non-Closed Access city incomes and home prices since 1998. So, do you think, in the year 2013, the reason those low income houses in Closed Access cities have risen the most is because there is too much credit flowing into those neighborhoods? Is there some monetary theory that explains why QE money only flows to places where there is no legal way to invest in new shelter?
Credit access does explain why houses have appreciated the least in low income zip codes in the other cities. We deprive them of houses where they live and now we deprive them of the funding that could build a house where they have to flee to.
Politically imposed deprivation is everywhere, and the public reaction is to demand more.
This is trillions of dollars worth of damage, imposed most harshly on the most marginal households, and it is being done with righteous indignation, near unanimous support, and a feeling that
finally
something is being done about those hobgoblins. Trillions of dollars. If we can do this much damage with public policies that are nearly universally supported, imagine how awful those policies are that some people actually disagree with. Or, maybe it is the unanimous stuff that is invariably the worst.
In any case, the downside of public policies, especially those that remove opportunities and options for people - especially those built on ancient prejudices and juiced up attribution error, is much, much less than zero. Benign negligence is clearly, empirically,
far
from the worst public policy. Sure, neglect is nothing to be proud of, but it is a hell of a lot better than what everyone apparently
is
proud of. It would be one hell of a good first step. Benign neglect would be the best thing that has happened to working class neighborhoods in decades. We have a lot of solutions to overcome just to get back to square one. But, boy does square one look good from here.